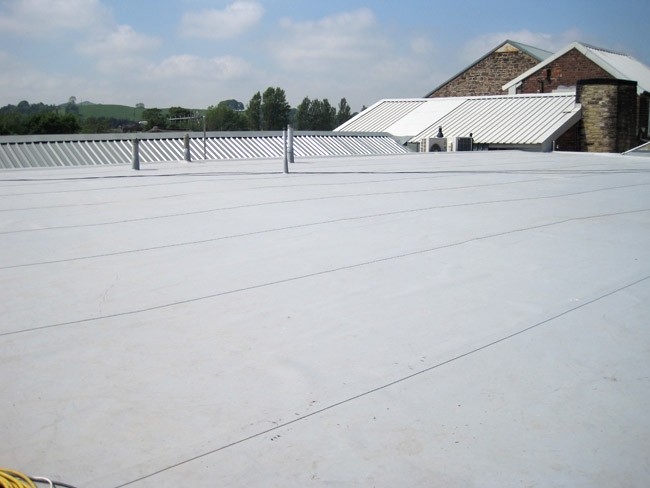 Single-ply membranes are factory-manufactured sheet membranes. They generally are categorized as either thermoplastic or thermoset. Thermoplastic materials can be repeatedly softened when heated and hardened when cooled. Thermoset materials solidify, or "set", irreversibly after heating. Single ply membranes commonly are referred to by their chemical acronyms, such as ethylene propylene diene terpolymer (EPDM). Single-ply sheet membranes are produced using one of three manufacturing processes: calendering, extruding or spread coating. The membranes may contain reinforcement layers. Common reinforcements for single ply membranes include polyester fabrics or scrims, glass fiber, or a felt or fleece backing.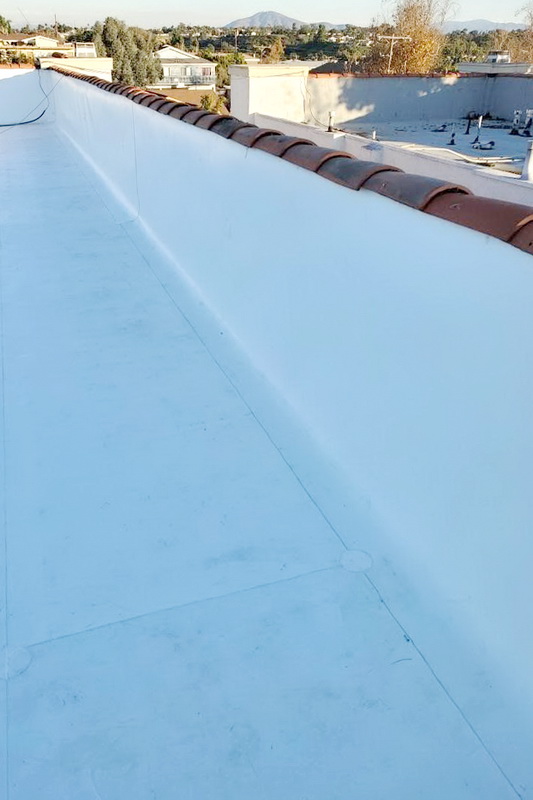 Single-Ply TPO
The TPO Single Ply Roof Membrane is a thermoplastic polyolefin membrane that can be used in a variety of single ply configurations for commercial roofing, such as mechanically attached and ballasted, as well as in situations where other roof systems are not practical. It accepts roof movement and thermal shock well. Used in a multi-ply configuration, this is an excellent choice for vegetated commercial roofing systems both for waterproofing and as a root barrier. The TPO Single Ply Roof Membrane is available in a variety of thicknesses including 45, 60 and 80 mil.
The asbestos-free TPO Roof Membrane is a white single ply roof membrane composed of an elastomeric thermoplastic polyolefin. It is reinforced with a high strength, wick resistant polyester fabric.
PVC Roofing
PVC roofing is one kind of single ply roofing, which means it consists of one layer manufactured in a factory. A commercial PVC roofing membrane is made of thick, flexible UV-resistant thermoplastic material; it may also contain polyester or fiberglass, resins, pigments, plasticizers and other chemicals. The thickness of the roofing membrane varies by manufacturer.
PVC roofing can be made to fit nearly any flat commercial roof shape in Fresno, San Diego and the Inland Empire, CA, and is considered a fire safe material. This type of prefabricated flat roofing material is also inexpensive and has good general weather resistance. However, it is normally not used in areas with heavy rains or snow. PVC roofing also may become brittle in very cold weather. Most commercial PVC roofing membranes are designed to last about 15 to 20 years, although some premium products may have longer warranties.